Garden of Eden Urban Farming
Hydroponic Gardening Overview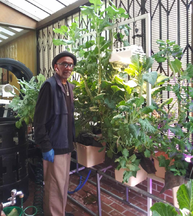 Don't miss this introduction to home hydroponic gardening! We will teach you how to choose techniques and equipment, install and grow a variety of fresh, healthy vegetables and microgreens right in your own home, along with an overview of hydroponic gardening. We offer the course in the Seattle-Tacoma-Everett area monthly or whenever demand warrants. As in our other courses we examine the role of "STEAM concepts" — science, technology, engineering, arts and mathematics — in the achievement of objectives. Taught in both on-site and online formats.
Course Outline
OVERVIEW

Garden of Eden Urban Farming offers courses in hydroponic home gardening, ranging from countertop home gardens through large-scale commercial operations. Our courses focus on both enjoyment and profitability, with additional emphasis on nutrition and localization of food production. Specific content and activities will vary between sessions.

What is hydroponics?
What is indoor farming?
How does it differ from outdoor farming?
Benefits? Advantages?
ACTIVITY: Write a statement of objectives, issues and procedures.

SCIENCE

Application of the scientific method to hydroponic gardening.

observe, measure
hypothesize
test, repeat
Applicability to hydroponic gardening: participants are encouraged to adopt rigorous models to advance their skills and productivity.
ACTIVITY: Complete an exercise in typical problem solving in hydroponics.

TECHNOLOGY

Equipment used to support hydroponic cultivation

Air/Ventilation
Water
Lighting
Growing Medium
Nutrients: N-P-K
DIY vs. packaged systems
ACTIVITY: Examine and evaluate technical choices using a worksheet with your own criteria.

ENGINEERING

A Systems Approach

Recycling Water Systems
Light Recipes
Home Garden Systems
Commercial Systems
ACTIVITY: Team up to research system alternatives.

ARTS

From Seed to Table

Health & Nutrition
Fresh Local Produce
Culinary Arts
What about taste?
ACTIVITY: Write a marketing flyer or script.

MATHEMATICS

How we know it's working

Instrumentation
Measurement
Estimation
Validation
Modeling
Evaluation
ACTIVITY: Execute an experiment (varies with session).
APPLICATIONS
During our laboratory session we will plant, cultivate, and harvest sample produce from the class garden. (On-site sessions only.)